In October, according to the statistics of Vietnamnet Gobal  have 4 consecutive storms landed in Vietnam:
2 storms in the first half month
1. Storm No. 6:
In the morning of October 11, 10 am entered the mainland provinces of Quang Nam-Quang Ngai and weakened into a tropical depression:
Rain will lash central provinces from October 16 to October 21, with common rainfall of between 300-900mm to be recorded.
Meteorologists have warned about possible flash floods and landslides in the coastal, low-lying and mountainous areas in the coming days.
Flash floods and landslides over the past few days have left more than 40 dead, 8 missing and caused huge material losses in the central region
2. Storm No. 7:
The night of October 13/10, storms level 12 will enter the Gulf of Tonkin, the sea is very strong

Typhoon No. 7 caused heavy rain and many types of natural disasters also made 12 people missing, of which 8 were swept away by floods; 4 crew members had a ship sinking accident at sea)
In terms of properties, 415 houses collapsed and were damaged; the number of houses flooded amounted to 131,077.
Regarding traffic, 137 national highway points, 11,576m of local roads were eroded and damaged; 19 flooded points (, the transport sector has set up barriers, regulating traffic and organizing to overcome incidents. And More….
2 storms in the remaining half month
1. Storm No. 8:
On October 26, the central localities provinces spanning from Nghe An to Thua Thien Hue will see moderate and heavy rain with rainfall of 50-150mm and over 200 mm in some places.
Consequence: Folow link: 1, 2,…
2. Storm No. 9:
By 10 am on October 28, Storm Molave is forecast to land on the central coast from Quang Nam to Binh Dinh , according to Deputy Director of the National Centre for Hydro-Meteorological Forecasting Hoang Phuc Lam.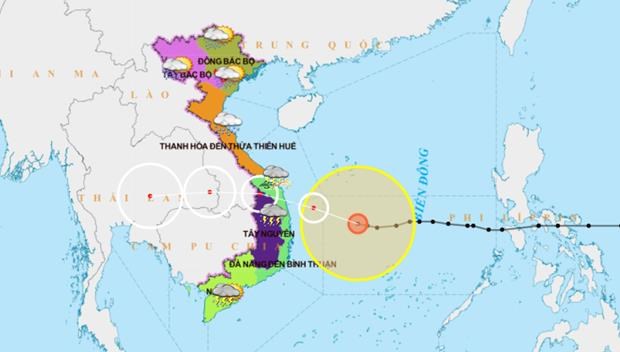 The movement of Storm Molave (Photo: The National Centre for Hydro-Meteorological Forecasting)
Coastal areas from Thua Thien-Hue to Phu Yen will see winds of 117 to 149 km per hour with gusts of up to 149km per hour, while inland areas will be hit by winds of 102km per hour with gusts of 133km per hour.
The ninth in the East Sea this year, said to be the strongest in 20 years, will move deeper inland during the day before weakening.To prepare for disaster response Vietnam prepares to evacuate 1.3 million people as Typhoon Molave approaches (follow CNN) and and many other activities to best prevent storms.
Natural disasters are inevitable, but preventing it from becoming a disaster is something we can do. Fomex hope everyone is well prepared before the storm and overcome the consequences after the storm